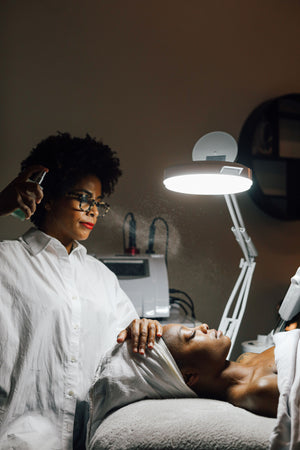 Unlock Your Skin's Full Potential
"The secret of healthy and beautiful skin is: simplicity, consistency and commitment."
Viviane Aires Esthetician and founder of Viviane Aires Skin Wellness.
My Journey
As I sit here reflecting on my journey, my heart fills with gratitude and an overwhelming sense of accomplishment. You see, I didn't always know what my path in life would be. I never imagined that I would end up where I am today, living the American Dream and doing what I love.
When I first came to the United States, I had no idea what the future held for me. All I knew was that I wanted to provide for my family and make a better life for myself. Little did I know that my journey would take me down a path I never could have imagined.
It all started with a simple suggestion from one of the families I worked with as a nanny. They saw something in me that I hadn't yet seen in myself. They encouraged me to pursue a career in massage therapy, and that's exactly what I did. I went back to school, and I worked hard to hone my skills and perfect my craft.
As fate would have it, I ended up covering shifts for a friend at the Ritz Carlton Hotel in Philadelphia. Little did I know that this would lead to a full-time position as a massage therapist at one of the most prestigious hotels in the country. And that was only the beginning.
A year later, the spa manager suggested that I get my esthetician license. I didn't think twice about it; I knew that this was the next step on my journey. And so, I did. I became a licensed esthetician, and I've been doing what I love for the past 20 years.
What motivates me every day is the opportunity to inspire women to claim their beauty and overall well-being. There is no greater joy than helping someone feel confident, beautiful, and comfortable in their own skin. I am blessed to be able to do what I love and make a good living doing it.
Living the American Dream has not come without its challenges, but through hard work and perseverance, I've been able to overcome every obstacle that's come my way. And for that, I am forever grateful.
So, to anyone out there who may be struggling to find their way or wondering if their dreams are possible, I say this: never give up. Keep pushing, keep fighting, and keep believing in yourself. With hard work and determination, anything is possible.


Her Career Journey
Viviane's passion for skincare is unmatched. She takes great pride in providing her clients with customized treatments that are tailored to their specific skin concerns, lifestyle, and personal preferences. Her approach is rooted in a deep understanding of the unique needs of each individual client, which allows her to create a truly personalized skincare plan that is sure to deliver real results.
As a graduate of LT International Beauty School and the International Dermal Institute, Viviane has a strong foundation in esthetics, as well as advanced knowledge and expertise in the latest skincare techniques and treatments. Her training under renowned dermatologists, Dr. Susan Taylor and Dr. Candrice Heath, has given her a unique understanding of how to address the diverse skincare needs of individuals with varying skin tones.
Viviane's dedication to her craft is evident in the way she transforms her clients' skin and boosts their confidence. With her help, you can achieve a more radiant complexion and address any specific skincare concerns you may have. Whether you're dealing with acne, fine lines and wrinkles, hyperpigmentation, or any other skincare issue, Viviane has the knowledge and expertise to help you achieve your desired results.
As a Brazilian native, Viviane has been ingrained with the importance of self-care from an early age. Her mother taught her the value of beauty rituals and healthy habits, and this has been a driving force behind her passion for helping others achieve beautiful, radiant skin. With over two decades of experience as an esthetician, and massage therapist,  Viviane has developed an intuitive understanding of her clients' needs, allowing her to approach each facial and skincare regimen with a unique perspective. Viviane's holistic approach to skincare takes into account not only the external factors but also the internal ones. She recognizes that stress, poor nutrition, and lack of sleep can all contribute to the health of our skin. By addressing these factors and tailoring each treatment to meet individual needs, Viviane is able to help her clients achieve optimal results.
As a certified expert in the Sculptural Face Lifting AKA Buccal Massage method developed by Yakov Gershkovic and in Astecc Manual Lymphatic Drainage based on the teachings developed by Dr. Emile Vodder's MLD, Viviane has proven her commitment to staying up-to-date with the latest developments in esthetics and wellness. Her dedication to growth and learning ensures that you can always trust that you're getting the best of the best.
When you choose Viviane as your skincare and wellness expert, you can rest assured that you're receiving the highest quality care and the most advanced techniques in the industry. Her passion and commitment to excellence make her the perfect choice for anyone looking to transform their skin and their overall wellbeing.
BOOK FACIAL